Skip to Content
Childcare in Windermere | Kepler Academy Keswick Opens September 2022
Kepler Academy's Award-Winning Childcare is Coming to Windermere
Our team is excited to announce that Kepler Academy Keswick will open September 1, 2022 at 1061 Keswick Drive SW. Our growing team is excited to bring our award-winning childcare services to South West Edmonton.
The new academy will boast a nature-inspired outdoor play space on ground level, with a beautiful, modern design throughout the interior. All classrooms will be built to create an enriched early learning environment.
Through our very own Exploratory Education approach, Kepler Academy Keswick will offer full-time educational child care and early learning for children 16 weeks to 6 years of age, with tailored programs for infants, toddlers, preschoolers, pre-kindergarten and kinder-care. At this location, we will offer care for kindergarteners, however, we will not have a program for children in grades one through six.
Contact us today at info@kepleracademy.ca for further information and enrollment availability.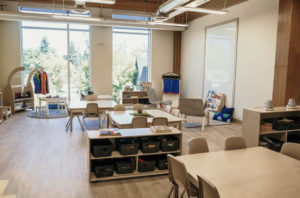 Pictured above is the beautiful Pioneer Pre-Kindergarten Classroom at Kepler Academy West Block.
Educators: Apply Today to Grow Your Career at Kepler's Keswick Location
Our team is seeking the best Early Childhood Educators in our industry to join our team at Kepler Academy Keswick. All educators are encouraged to apply by sending their resume and cover letter to careers@kepleracademy.ca. We are also seeking a qualified Chef and Driver.
Kepler's Educators are fully certified and undergo regular training to ensure the very best care for children. In addition, they must be passionate, love to have fun, build connections with families and colleagues, and be open to exploring new ideas. Read more on our Careers Page about what Kepler Academy offers outstanding educators.