Skip to Content
Enter to Win Kepler's Kids Hockey Fan Packs with the Edmonton Oil Kings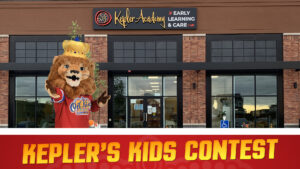 Fall is a time of growth and change — and our team at Kepler Academy has opened our newest locations in the communities of Cavanagh and St. Albert. 
To celebrate our opening, we teamed up with one of our best friends, Louie the Lion!  
Louie helped us pick out awesome items for Kepler Kids Hockey Fan Packs. We have 1 mega pack to away, and 2 medium packs, for 3 lucky kids to win. Louie is excited to help us give them away. He's also very excited for the Edmonton Oil Kings 2020-2021 season to start and is gearing up for a busy winter ahead.  
What's inside the Kepler Kid's Hockey Fan Pack? 
Street Invasion Hockey Sticks & Ball Set

 

The Big Book of Hockey for Kids

 

Scrapbook, Crayola Markers (20) & Hockey Stickers

 

Kepler Academy Toque 

 

Mini Solar System Planetarium

, Info Booklet & 

Space Stickers 

 

Kepler Academy 

Children's 

Book 

You'll Do Big Things

 

$100 waived off Kepler's Enrollment Fee

*

*

 
Enter the Giveaway 
To enter the giveaway, head to the Edmonton Oil Kings Instagram Account (@edmoilkings) and follow the instructions.  
This giveaway runs from October 1st until 12PM on October 8th.   
Good luck, hockey fans! 
Special Instructions 
*Winners must be able to pick up the Kepler Kids Hockey Fan Pack at our office in west Edmonton. Address and appointment will be provided.  
**Included in each Kepler Kids Hockey Fan Pack is $100 waived off enrollment at any of Kepler Academy's locations. This discount is transferrable to another child, so long as the winner transfers the applicable coupon to the family using the discount, and the coupon is provided upon enrollment.