Skip to Content
Sherwood Park (Emerald Hills)
Kepler Academy Emerald Hills is a fully licensed child care centre, conveniently located off Sherwood Drive and Emerald Drive. It has a beautiful modern design, with 11 classrooms built to create an optimal early learning environment. Tall windows and high ceilings allow for plenty of natural light. Our centre offers a nature-inspired outdoor play space, inviting children to explore year-round. We provide a full menu of nutritious meals and snacks to ensure children are properly fuelled throughout the day.
Through our Exploratory Education approach, Kepler Academy offers full-time educational child care and early learning for children 16 weeks to 6 years of age, as well as out-of-school care and transportation for 6 to 12 years. We follow a guided curriculum for all ages, allowing your child to advance in several critical areas. Kepler recruits qualified and experienced staff, that are fully certified and undergo regular training to ensure the very best care for your child.
Transportation will be provided to and from Mills Haven Elementary for the 2021 – 2022 School Year. Please inquire about registration early to ensure space is available.
Open House Tours:
Thursday: June 10, 2021 | 6 – 8 PM
Thursday: June 24, 2021 | 6 – 8 PM
Thursday: July 8, 2021 | 6 – 8 PM
Contact Kepler Academy Emerald Hills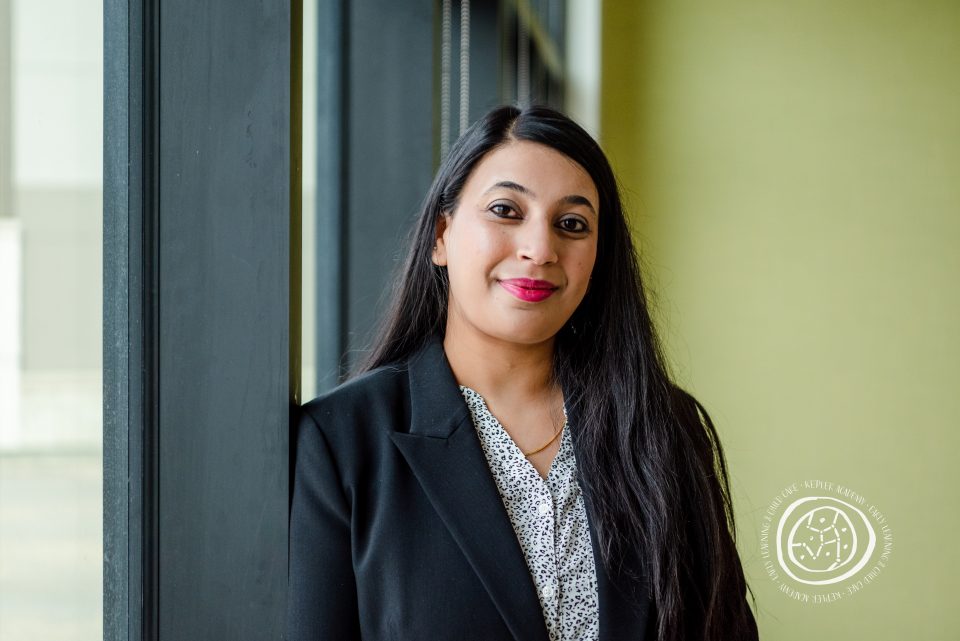 Meet the Director
Amandeep Bhusley is the Centre Director at Kepler Academy Emerald Hills. She grew up in India and moved to Canada in 2014. She holds her Bachelor of Arts Degree and also her General Nursing and Midwifery Diploma. In her previous career, she worked in a paediatric hospital and really enjoyed working with children and observing their growth.
Amandeep wanted to build a career working with children, so she decided to study Early Learning and Child Care. She earned her Child Development Supervisor Certificate, and since then, has been working with children and leading child care teams for over 7 years. She has worked in both the private and not-for-profit sectors. She believes in a "learning through play" practice, inspired by Alberta's Early learning and Childcare framework and the GRIT program.
In her personal time, she has hobbies such as reading, gardening, listening to music and cooking. When she is not working, you will most likely find her spending quality time with her family and enjoying the beauty of nature.
To schedule a visit, or if you have any questions about this academy, we'd love to hear from you!
Kepler Academy Early Learning and Child Care – Sherwood Park, Ebony Boulevard, Sherwood Park, AB, Canada
We Are All Born Explorers