Skip to Content
Sherwood Park (Emerald Hills)
Upcoming Open House Dates
January 14 & 28, 2021 | 6 – 8pm
February 11 & 25, 2021 | 6 – 8pm
Address: 170 Ebony Blvd, Suite 110, Sherwood Park, AB T8H 0P5
Our centre will be open from 6pm – 8pm for individual family walk-through tours, 30 minutes in length. Children are welcome to join. Your family will have your own guide and be welcome to ask questions and enroll for care.
All tours must be scheduled in advance to ensure the health and safety of all our guests.
We ask that all adults bring a mask or face covering for the tour.
To book a timeslot, contact:
Amandeep.Bhusley@kepleracademy.ca
780-983-5736
Kepler Academy Emerald Hills is a fully licensed child care centre, conveniently located in the new Emerald Hills Shopping Centre with immediate access to the 16A highway. It is ideal for families in Sherwood Park and Strathcona County. This newly built centre neighbors Lowe's and Petland. Upon visiting, you'll immediately notice the large, bright entryway and high ceilings, and beautiful modern design throughout. The centre has 11 rooms, each purposefully constructed to create an enriched learning environment. An all-natural outdoor play space was built adjacent to the centre, for the children to explore year-round. Emerald Hills has a capacity for up to 132 children.
Through our Exploratory Education approach, Kepler Academy Emerald Hills offers full-time educational child care and early learning for children 16 weeks to 6 years of age, as well as out-of-school care for 6 to 12 years: infants (Stargazers), toddlers (Explorers), preschoolers/pre-kindergarten (Navigators), kindergarteners (Pioneers) and grades 1 – 6 (The Stellar Program).
Our kinder-care program offers care before and/or after kindergarten classes, as well as full-day care, following our Pioneer Curriculum.
For the 2020 – 2021 school year, Kepler Academy will be providing transportation to select elementary schools nearby, including Millshaven, Heritage Hills and Davidson Creek Elementary. Please inquire with the Centre Director for more information, as availability is based on demand.
Kepler Academy recruits only the most qualified and experienced staff that are fully licenced and undergo regular training to ensure the very best care for your child.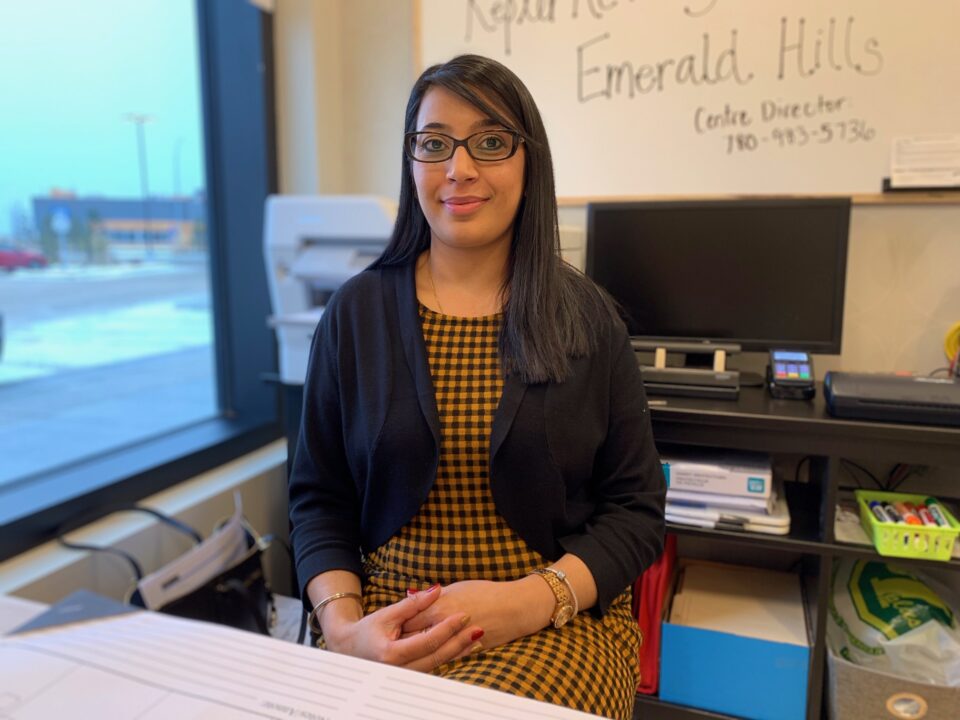 Meet the Director
My name is Amandeep (Aman) Bhusley, I am the director of Kepler Academy – Emerald Hills. I grew up in India and moved to Canada in 2014. I have my Bachelor's of Arts Degree and also my General Nursing and Midwifery Diploma. I worked in a pediatric hospital and really enjoyed working with children and observing their growth.
I wanted to then pursue my career working with children, so I decided to study Early Learning and Child Care. While working and studying I achieved my Child Development Supervisor Certificate. I have been working with children and leading child care teams for over 7 years.  Previously, I worked in the non for-profit sector as a Team Lead for 3 years. I believe in "learning through play." My practice was inspired by Alberta's Early learning and Childcare framework and GRIT program.
My personal passion includes many hobbies such as reading, gardening, listening to music and cooking. When I am not working, you will most likely find me spending quality time with my family and enjoying the beauty of nature.
To schedule a visit, or if you have any questions about this academy, we'd love to hear from you!
Kepler Academy Early Learning and Child Care – Sherwood Park, Ebony Boulevard, Sherwood Park, AB, Canada
We Are All Born Explorers