Skip to Content
University of Alberta (College Plaza)
Kepler Academy College Plaza is a fully licensed child care centre, conveniently located across from the University of Alberta, University Hospital and the Stollery Children's Hospital. We are proud to provide Sibling Care services in partnership with the Stollery. Our centre boasts bright, enriching early learning classrooms, and a private nature-inspired outdoor play space. We serve a full menu of nutritious snacks and meals to ensure children are fuelled throughout the day.
Through our Exploratory Education approach, Kepler Academy offers full-time educational child care and early learning for children 16 weeks to 6 years of age. We follow a guided curriculum for all ages, allowing your child to advance in several critical areas. Kepler recruits qualified and experienced staff, that are fully certified and undergo regular training to ensure the very best care for your child.
Open House Tours (Must Book Tour in Advance)
Come see why Kepler Academy is voted Edmonton's Top Choice Childcare Centre for 2022!
Thursday: June 2, 2022 | 6 – 8 PM
Thursday: July 7, 2022 | 6 – 8 PM
Thursday: August 4, 2022 | 6 – 8 PM
Thursday: September 8, 2022 | 6 – 8 PM
Please call or email for tour availability and times.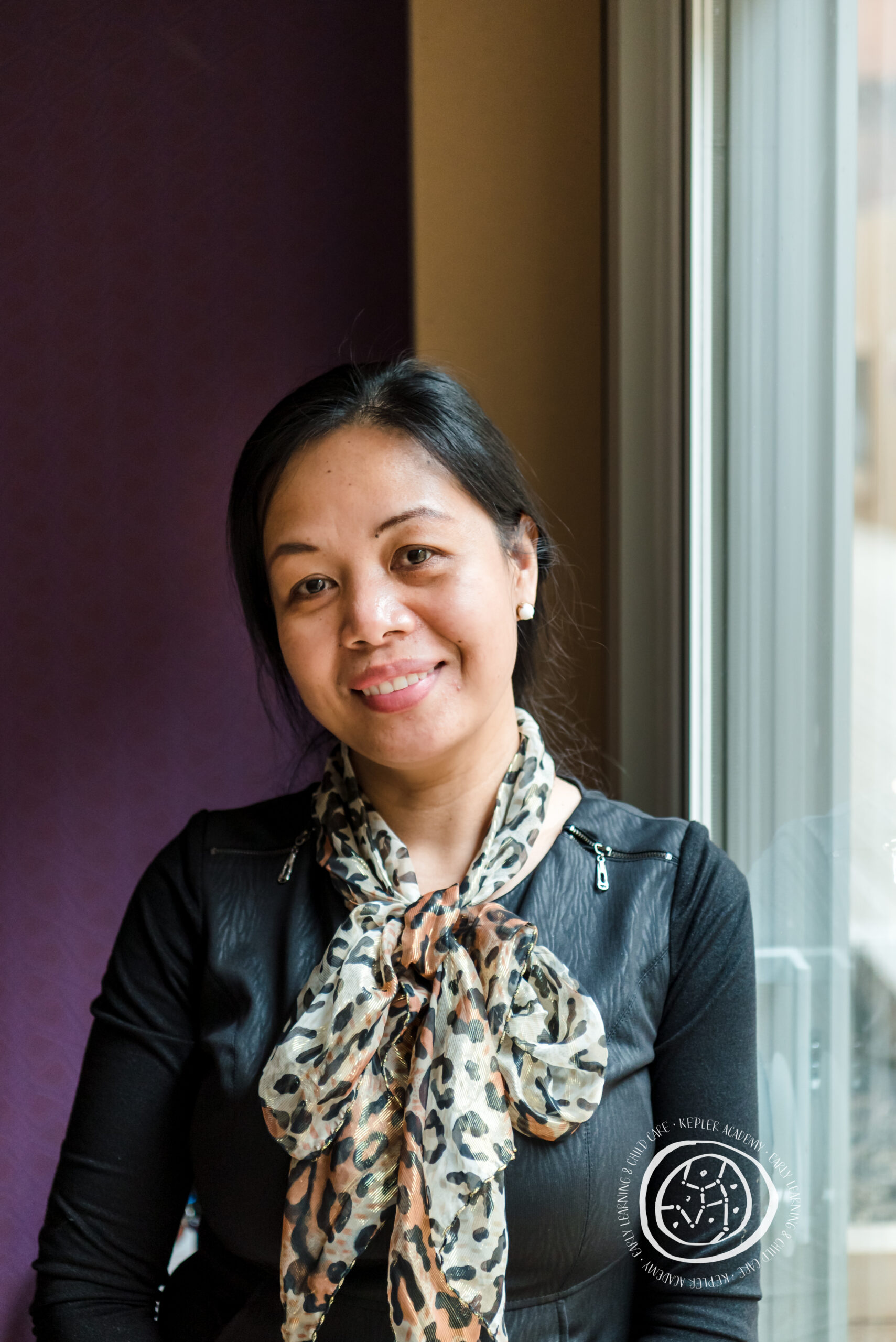 Meet the Director
Jonabel Cabasal is our Centre Director at College Plaza. She is from the Pearl of the Orient: the Philippines. Jonabel has over 11 years' experience teaching preschool and grades one through seven in the Philippines, and has many years of experience working in early education in Edmonton.
Jonabel holds a Masters Degree with a Major in Education Management, a Bachelors Degree in Elementary Education, and a certificate of Early Childhood Education. She has completed FLIGHT at MacEwan University. She is familiar with the Accreditation Program and Alberta's Framework Curriculum. Jonabel recently won the international Daughter's Day 2021 Award. She is currently a Filipino Teacher at the Filipino Canadian Language School and an Alberta Filipino Journal Columnist. Fun fact: when she was a young child, she was sponsored by a family through World Vision.
Her philosophy in life is simple. By genuinely showing love to children, that will a huge reverberate effect in the world, as children share their happiness. She loves doing crafts with children, supporting learning through reading, and use of additional aids. She loves basketball, volleyball and hiking.
To schedule a visit, or if you have any questions about this academy, we'd love to hear from you!
Kepler Academy Early Learning and Child Care – College Plaza, 112 Street Northwest, Edmonton, AB, Canada
We Are All Born Explorers