Skip to Content
Downtown Edmonton (Sun Life Place)
Child Care In Downtown Edmonton
Kepler Academy Sun Life Place
Address: 10123 99 Street NW, Suite 100, Edmonton, AB T5J 3C6
In-Person Tours: 
February 25, 2021 | 6 – 8 pm
March 11 & 25, 2021 | 6 – 8 pm
Our centre will be open from 6pm – 8pm for individual family tours, 30 minutes in length. Children are welcome to join. Please book your tour in advance by contacting our Centre Director, Aia. We ask that all adults bring a mask or face covering to wear while inside.
Virtual Tours: Available upon request
To Book a Tour, Contact Kepler Academy Sun Life Place
aia.hughes@kepleracademy.ca
780-224-6459
Kepler Academy is a fully licensed (and accredited) child care centre, conveniently located on the mezzanine level of the Sun Life Place office tower. The centre is newly built with a modern design throughout. It has seven beautiful rooms, set up to create an enriched early learning environment. Our centre has a private rooftop outdoor play space, with unique climbing tree trunks and logs, planter boxes, chalk walls, and other nature-inspired elements to explore in all seasons. We provide a full menu of nutritious meals and snacks, to ensure children are fuelled throughout the day.
Through our Exploratory Education approach, Kepler Academy offers full-time educational child care and early learning for children 16 weeks to 6 years of age. We follow a guided curriculum for infants, toddlers, preschoolers and kindergarteners, allowing your child to advance in several critical areas. Kepler recruits qualified and experienced staff, that are fully certified and undergo regular training to ensure the very best care for your child. Ask us today about our corporate partnership program!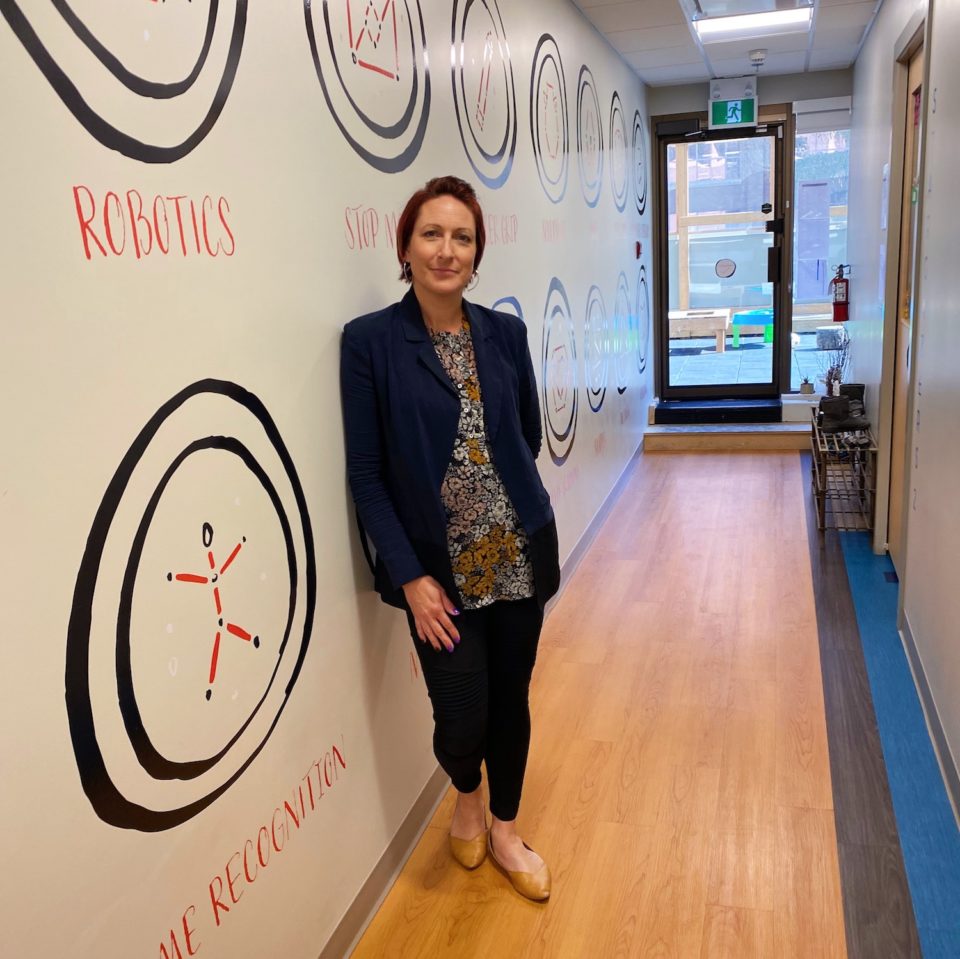 Meet the Director
Hello Sun Life Families! I am Aia Hughes, the Sun Life Place Centre director. I have worked with children, youth and families since high school in a variety of settings including managing daycare and out of school centres, worked as an Educational Aid in elementary schools, managed a Parent Link Centre and developing and delivering child and youth programming on a municipal level. As a certified Triple P Practictioner, I have experience helping families manage difficult behaviours, discover their unique strengths and build a more positive family unit. I completed my Diploma in Early Childhood Education at Red Deer College and am currently working towards a Bachelor's of Professional Arts in Human Services through Athabasca University.
My goal is to support clients and staff I work alongside, ensuring health, safety and well-being comes first and to cultivate everyone's unique assets to help enhance the program's overall successes. Children are naturally curious and I believe early childhood is the most important period to provide guidance to them and instil a love of learning for life.
I have 3 children ages 15, 23 and 24 and have a dog and 2 cats. I grew up in Edmonton and am currently moving back home! I am an avid runner and proud to have completed my first Ultra Marathon (54kms) September 2019.
To schedule a visit, or if you have any questions about this academy, we'd love to hear from you!
Kepler Academy Early Learning and Child Care – Sun Life Place, 99 Street Northwest, Edmonton, AB, Canada
We'd love to invite you to tour through our Sun Life Place Day Care and learn more about your child care needs.
We Are All Born Explorers