Skip to Content
Families are in Focus at Aspen Eye Care | Kepler Family Stars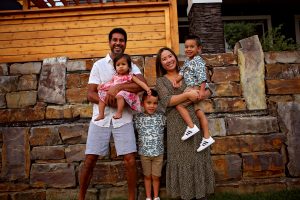 We are excited to introduce an incredible Kepler Family.
Meet parents Truc Bandali and Dr. Aleem Bandali, the owners of Aspen Eye Care in Sherwood Park. Their boys, Rayaan (6) and Izyaan (4) , have been attending our academy at Emerald Hills since we first opened. Their daughter Imaan (2), now attends as well!
The Bandali Family has made a big impact locally and internationally.
Read more about them in our Kepler Family Stars interview below.
---
Truc and Aleem, tell us about your family.
We are an energetic, fun and extremely active family of 5. When we are not at work, school, or Kepler, you can usually find us at the park, out in the backyard or one of our favourite restaurants.  We love to travel and can't wait for the next adventure. 🙂
What do you do for work? 
Dad is an Optometrist who owns and manages his own clinic: Aspen Eye Care. He loves to take care of his patient's visual and medical needs and is passionate about providing a better quality of life for everyone he sees. Routine children's eye exams are so important.
Mom is an aspiring interior designer who took on the projects of designing Aspen Eye Care and our new home. She certainly has an eye for exceptional quality and her most recent project at Aspen Eye Care gets rave reviews every day.
What do you love most about what you do?
Dad loves the medical side of Optometry.  Seeing patients who may have undiagnosed Diabetes or a significant medical condition, that can only be found through a thorough eye exam, peaks his interest the most. Making life-changing discoveries is what brings Dad in, day after day. Helping others see clearly is certainly fulfilling.
Mom loves to put her stamp on a space, whether it is bringing life to a dull room, or completely overhauling an entire space. She does it with grace and an elegance that is hard to find. Mom finds the greatest joy in taking a blank canvas and taking it to where her (and her client's) vision meets, keeping a tight budget in mind while transforming a space into her (and her client's) dreams.
Does your organization get involved in the community, both internationally and locally? 
Aspen Eye Care is actively involved in international outreach programs, such as the World Partnership Walk, where funds are raised to fight local and global poverty. Eye Care missions through OneSight (read more about it here) engage our staff in directly helping to deliver eye care to those in need.
At the community level, Dr. Bandali has been involved with home care for seniors (before the pandemic), educational talks for pre-school children, charitable initiatives for those who can not afford eye care or eyewear and  monetary funding for many organizations such as Sherwood Park Minor Hockey. Dr. Bandali also actively mentors students interested in the field of Optometry.
What do your children love to do for a favourite class or activity? 
The kids love painting. Really any craft where they get to use their hands, some tools and colour — it's so wonderful to see all of the art they bring home!  They also love to get outside and run around, and it's a plus that Kepler has such a great outdoor space for the kids to stretch their legs.
Is there one activity you most love to do in the spring together?
The kids love to walk around Emerald Hills ponds and throw rocks into the melting water.  They love nature and enjoy watching the geese fly back for the warm months.  Often times they will try to count all the pelicans that land on these ponds throughout the spring/summer.  Lastly, who doesn't love to jump in a wet puddle when we get some rain. 🙂 
What are the kid's favourite books to read before bedtime?
There are too many to list, but right now, they are into Marvel Superheroes, Paw Patrol, Construction Site: Mission Demolition, The Gruffalo, Love You Forever, Ish, Stuck and so many more. 
Which family meal do you love to eat together?
Dinner has to be our favourite.  Mom can really cook, so we are always enjoying some gourmet home cooking with some dessert afterwards. Imaan usually eats her portion and then fights the rest of us for ours.
In Sherwood Park, what is the best place to take your kids?
Before the Pandemic, Millennium Place was our second home. We usually hit the ice or play gym to release all of that energy.  The kids also used to participate in many of the group classes, like Sportball, before things were shut down.  Can't wait 'til we can go back as a family again.
In your opinion, what is the best part about Kepler Academy? 
We love Kepler! It is close to home, the meals are nutritious and filling, and most importantly, the staff are top notch. The ladies are so sweet to our little ones. We know our kids are loved and well taken care of. We are so happy to have this excellent children's academy in our backyard.
---
Truc and Dr. Bandali, thank you so much for sharing your story. 
When you visit Aspen Eye Care, make sure you mention you're a Kepler Family, as you'll receive 20% off on your eyewear for children and parents.