Skip to Content
Kepler Academy's St. Albert Location Opening Soon
Kepler Academy's St. Albert Location Opening Soon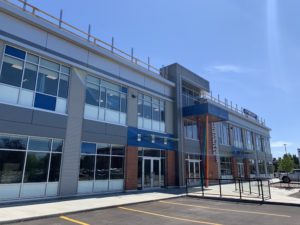 This article was featured by the St. Albert Gazette!
We are all born explorers. This is more than a motto for Kepler Academy. Its proprietary Exploratory Education, which makes the Academy unique, focuses on education-based early learning and childcare,  filling the gap for parents whose children need both pre-school learning and day care. Kepler Academy goes above and beyond by providing a nurturing environment where indoor/outdoor experiences, chef-prepared meals, on-site educators, and a hands-on approach to exploring the world keep the children active and engaged all day.
Lindsay Taylor is excited to be Kepler Academy St. Albert's Centre Director. As a local resident that has been with Kepler for nearly three years, she's excited about all the great things the city has to offer children – and even more excited to be part of an organization that provides an exemplary learning-based program for infants, toddlers, preschoolers, and children requiring before/after school care. Lindsay earned her early childhood certificate through Lakeland College and then traveled to Italy to further her studies on Reggio philosophy in the city of the philosophy's origin. Taylor's openness to learning a variety of children's learning styles complements Kepler Academy's Exploratory Education curriculum.
Rob Bennett, Kepler's CEO grew up in St. Albert. For much of his youth, he loved to explore the Braeside Ravine. Bennett loves that the Kepler curriculum promotes exploration and discovery – he knows from experience the importance of play that's guided by progressive curriculum. As children return back to school, he and the team are continually investing in a safe and loving environment, complete with COVID-19 protocols that protect the children, parents, and the staff.
Rachel Jones, Marketing, is also local to St. Albert. She has nothing but the highest praise for the Academy as her time with Kepler has given her a front-row view of how the educational, play-inspired program has such a positive effect of the children and parents alike. She loves that the children learn through a multi-sensory environment, while also having their social and nutritional needs met – and that the programming is led by educators that excel in their fields.
The St. Albert centre is on the third floor of the new Sturgeon Medical Centre development on St. Albert Trail. Ten classrooms allow for cohorts of students to enjoy an inviting learning environment. The outdoors comes inside with a nature-inspired playscape.
Educators for this and other Kepler centres are fully licenced, carefully recruited, and undergo regular training. An on-site chef ensures that meals and snacks (which are all included) provide balanced food choices that are as nutritious as they are delicious.
Kepler's services include full-time and part-time educational childcare and early learning for children aged 16 weeks to 6 years of age. Children aged 6 to 12 can attend for before/after school care. The curriculum addresses eight pillars of learning: early literacy, math, community/self-discovery, environment/senses, personal and social skills, physical wellness through play, creativity, and STEM/tech for an evolving world. As a new service, Kepler will provide transportation to elementary schools in select areas. Kepler also offers full-day kinder-care and out-of-school care for children who may be distance learning.
Parents interested in Kepler's St. Albert centre can pre-book an in-person tour, which will be hosted between the hours of 4 pm and 8 pm on Thursday, August 27. Email info@kepleracademy.ca or call 780-700-9427 to book. Virtual tours can also be booked, as of August 13.
Visit https://www.kepleracademy.ca/location/st-albert/ to learn more about the St. Albert location, and https://www.kepleracademy.ca/ for more information on the Academy and its curriculum.