Skip to Content
Reopening Child Care: What Kepler Academy is Doing to Stay Healthy & Safe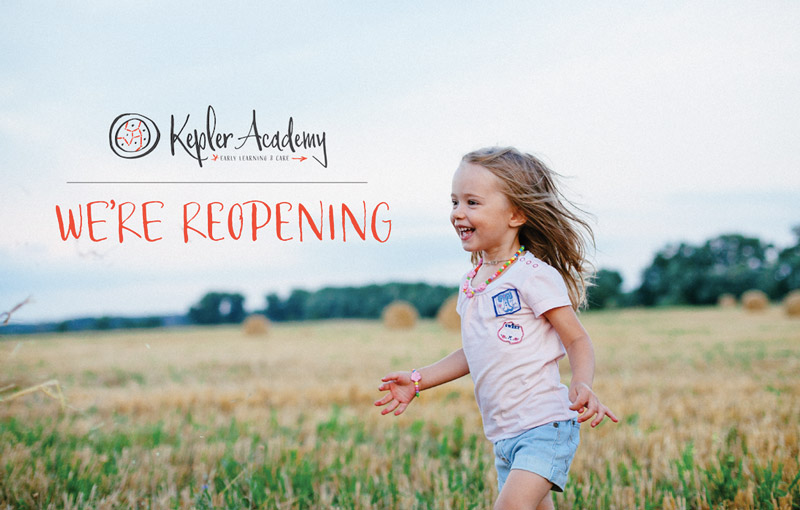 Kepler Academy's childcare centres are officially welcoming families back after the May long weekend. During these unusual times, we are ready to move forward with our programs in a positive and prepared way.
As a parent, you are likely wondering what added precautions and steps are being taken during Phase 1 of Alberta's Relaunch Strategy that will ensure the health and safety of your child. All licensed childcare programs have been provided with guidelines that must be followed for both daycare and out-of-school care. Read them here: AHS Health Guidelines for Reopening Childcare
Fortunately, three of Kepler's centres were selected to re-open in March to support essential service professionals. Reopening early gave us a head start with implementing additional health measures, and learning how to best care for children under COVID-19 conditions. We've also been able to plan ahead for summer programming as well.
Here are 7 ways we're operating under new health guidelines:
1. Practicing Social Distancing in a Child Care Setting
We know that it's difficult to maintain 2 metres (or 6 feet) of distance between children. However, we will take the opportunity to teach them new skills and make things fun. For example, during circle time, children might have fun sitting on their own mat with their own space, and singing a song that encourages play. They can stretch out their arms to find where to sit. During lunch and nap time, spacing can be extended to provide more room. Our staff will maintain physical distancing where at all possible.
2. Children, Parents and Educators Hand-washing More Frequently
For children, parents and educators, frequently hand-washing will be ingrained in daily habits. Everyone will have to check-in and stop to wash and/or sanitize hands. During the day, children and educators will wash, wash, wash after washroom breaks, before and after eating snacks and lunch, and after getting hands dirty, cleaning tasks or wiping noses. This is crucial for caring for our youngest little ones, where we must in close contact all day.
3. Frequent Cleaning of High-Touch Surfaces and Items
We'll ensure the toys ones that young children might put in their mouth are sent through the sanitizer right after — avoiding sharing those items. With toys, we'll wipe and sanitize them on a daily basis. During the day our tables, door handles, sinks, play equipment, and other high-touch objects will be wiped down frequently. We do not have our sensory bins open at this time. In addition, sleeping items and blankets will be kept freshly clean and stored in a plastic bag when not in use.
4. Smaller Groups and No Non-Essential Visitors
All classrooms will have a maximum of 10 people. With our newest Kepler kids, like young babies, we will help families to ease transitions with gradual entry and supported drop-offs. Each family's needs are different, and we are happy to support everyone to help their child adjust to a new people and a new environment. As for our amazing inter-curricular instructors, we will begin to bring them back once it is safe to do so —ideally for our upcoming summer program! (For older children, we'll plan fun field trips for when we can go again.)
5. Etiquette for Drop-off and Pick-Up
The following etiquette for families and educators will help everyone adjust quickly:
Having one designated parent to drop-off and pick-up (where possible)
Staggering times that families arrive, and watching for others to give plenty of space
Posting signs and visual cues to help guide families as they enter and exit
Creating a "Check-in Room" for everyone to wash/sanitize hands, check temperatures, and complete the Risk Assessment Questionnaire
Spending no longer than 15 minutes at a time in the centre
6. Staying Home When Sick
Of course, if any child or parent is sick with a cough, fever, runny nose, sore throat or shortness of breath, we ask that they not enter the space. In the AHS guidelines, we are legally required to self-isolate for 10 days. For children with seasonal allergies or asthma, they must home until symptoms have subsided, as it's difficult to tell what is causing it. Health Link (811) is a wonderful resource for families that can support with COVID-19 questions.
7. Maintaining a Positive Outlook
We are setting an example for our children — and will work through these new times with positivity and a clear action plan. We are committed to following AHS guidelines confidently to ensure all stay healthy. As well, we have planned ahead with a jam-packed summer full of activities for children, from infants, toddlers, preschoolers and kindergarteners, as well as kids in grades one through six. Our weekly themes in July and August range from "Treasure Hunters" to "Sympony of the 5 Senses" — making the summer fun and discovery-based.
Kepler Academy is Committed to Doing Our Part
At Kepler Academy, we have drawn from our past experiences and best practices to make our reopening successful. We are committed to doing our very best each day, and supporting parents in their return to their workplaces as well. In partnership with families, we will be able to succeed and continue forward in a way that works for everyone.
To add — we'll be serving snacks and lunch as of Tuesday!
To learn more about our programs or availability for care, contact us today.