Skip to Content
Kepler's Bake Sale Fundraiser for the Neurosurgery Kids Fund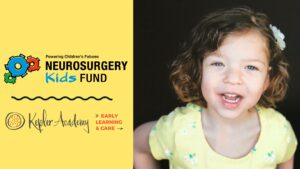 Please join us for an event hosted by the Children, Staff & Families at Kepler Academy Westlink, in support of Neurosurgery Kids Fund (NKF) at the Stollery Children's Hospital.
At 3 months old, Aurora, one of our Westlink children, was diagnosed with Hydrocephalus. Just after she was born, she wouldn't eat, was loosing weight, had jaundice and was getting very ill. Her parents and doctors discovered her illness, known as water on the brain.
The Neurosurgery Department at the Stollery Children's Hospital provided Aurora's exceptional care and got her on the road to recovery. She is 4 years old now – and thriving – thanks to the incredible team in paediatric neurosurgery. The NKF mission is to help pediatric patients and families with programs and initiatives that improve their quality of life, and provide world-class neurosurgery care right here in Edmonton.
Fundraiser Details
From August 17 to 31, online donations are accepted on our fundraising page.
On Tuesday, August 31, visit our centre parking lot at 16826 107 Avenue to purchase baked goods, coffee, iced tea, children's artwork, and raffle items like hockey tickets and children's toys. Delicious baked goods like cupcakes, cookies, nanaimo bars, squares will be available. Visit and share our Facebook event  to support our efforts.
Suggested Donations
Baked goods/Beverages – $1 & $2
Children's Art – $10
Raffle Items – will be individually priced. Please contact us if you would like to bid on an item but can't make it to the event in person.
Contact
If you would like to contribute baked goods, products or services to raffle for this event, please contact:
Amy Allaby, Centre Director
Kepler Academy Westlink
Learn more at www.neurosurgerykids.com