Skip to Content
The Secret to School Lunch-Packing Success: The Rule of 5 | Kepler Academy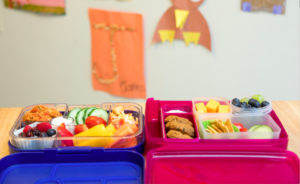 Guest blog written by Sarah Remmer (RD), Kepler Academy's Head of Nutrition
---
Parents, it's that time of year again!
Back to school season is upon us. As we're trying to soak up the last days of summer, we're also scrambling to replenish our kid's closets, and make sure calendars are organized for weekly activities. Oh, and one more thing… gear up for 10 months of packing lunches. Fun.
Ok ok… let's be honest, lunch-packing is definitely not our favourite task as parents. Even me—the pediatric dietitian. But I'm here to take you off the hook. School lunches do not need to be fancy or Pinterest-worthy.
In fact, right off the hop, I'm going to tell you that:
Repetition is ok
Simplicity is ok
Some packaged processed snacks are ok
Your child won't love everything you send… and that's ok.
Phew! The key is to keep it simple (no overcomplicated lunches here) and have a solid lunch-packing strategy with a list of go-to options to choose from.
I always make sure to include at least five items in my kid's lunches.
In fact, I call this The Rule of 5.
This rule offers some structure when packing school lunches and crosses off all of the main food groups that kids need for proper growth and development. Bonus? Kids tend to eat more when there's more to choose from too. Tip: get your kids to help pack their lunches – the more kids are involved, the more likely they are to actually eat it.
For kids school lunches, here's what you'll need:  
Leak-proof lunch kit with compartments or containers for different foods (Psst: make sure that you practice opening the lunch kit and container before school starts!)
Washable lunch bag or kit, preferably insulated
Ice packs
Thermos (optional)
Cutlery
Your list of lunch ideas (and a well-stocked fridge and pantry)
Don't forget about school lunch food safety:
To avoid bacteria growth, get your child to empty and wash out lunchbox and kit as soon as they come home from school, with hot, soapy water
Pack lunch the night before, and store in the fridge overnight so that it's already cold and ready to go
Always pack an ice pack to keep foods cold until ready to be eaten
For hot foods, pour boiling hot water into thermos and let sit for a couple of minutes. Heat hot food to steaming hot. Pour boiling water out of thermos and then transfer hot food. Seal.
Here's my secret to school lunch-packing success…
The Rule of 5
1 | Vegetable (pack at least one)
Examples:
Raw veggies, cut up
Leafy greens (ie. salad)
Frozen veggies (eg. peas)
Cooked vegetables
Homemade salsa or bruschetta
Vegetable soup
2 | Fruit (pack at least one)
Examples:
Piece or fresh fruit
Berries
Unsweetened canned fruit (canned in water)
Unsweetened fruit and veggie purees
Unsweetened dried fruit
3 | & 4 | Protein-rich foods (pack two)
Examples:
Leftover meat, poultry, fish
Canned fish
Eggs
Milk
Yogurt or Greek yogurt
Cottage cheese
Cheese
Beans/Lentils
Seeds or seed butter
Tofu or tempeh
5 | Whole grain or starchy vegetable (include at least one)
Examples:
Whole grain bread, tortilla or pita
Whole grain crackers
Whole grain homemade granola bar or oat-based energy bite
Homemade muffin or loaf made with whole grain flour or oats
Oatmeal
Whole grain pancake, waffle or French toast
Leftover brown rice, quinoa, barley
Corn
Potatoes/sweet potatoes/yams
Try building your school lunches with this rule of five in mind (and add a treat for fun if you want!) and it will all just seem a bit simpler.
If your kids are at the age that they can pack their own lunches independently (around ages 7-9), you can teach them about the rule of five, and have options from each category for them to choose from.
In my house, my kids build their lunches on their own, with the exception of the main item, which is usually leftovers from dinner that I add to their lunches after dinner. So, they choose one fruit, one veggie, one protein and a grain. I fill in the gaps with leftovers, a sandwich or some homemade lunchbox-ables.
I hope you use this rule of five when packing your lunches next week. Please share your photos and tag us at Kepler Academy so we can see the rule of five in action!
—
Be sure to follow along on Kepler's Facebook and Instagram pages for inspiring recipes, ideas and helpful nutrition tips on #foodfriday!