Skip to Content
The Best Kid's Chocolate Banana Fudgesicles | Kepler Academy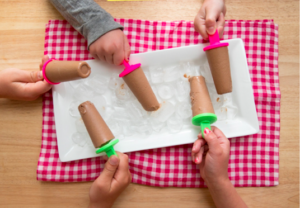 Our in-house Registered Dietician, Sarah Remmer, has shared her favourite healthy summer treat with our families. We wanted to share it on our blog — why not enjoy the last few weeks with a healthy homemade popsicle?
Below you'll find Sarah's recipe for the best Chocolate Banana Fudgesicles out there.
They are very nutritious and hydrating, perfect for kids, and the banana adds a natural sweetness. The peanut butter (or use seed butter, if you prefer) adds protein, fibre and nutrition. Busy parents will love this quick-and-easy recipe.
Sarah noted that, for babies or young toddlers under two years old, you can add more ripe banana and leave out maple syrup to keep sugar to a minimum.
---
Chocolate Banana Fudgesicles
3 Ripe Bananas
1/2 Cup Natural Smooth Peanut Butter, Seed Butter or WOW Butter
1 Cup Milk (or non-dairy alternative)
2 Tbsp Maple Syrup (to taste)
1 Tsp Vanilla Extract (optional)
1 Tbsp Cocoa Power
Instructions: Blend all ingredients together in a blender, and mix until smooth. Pour into a popsicle mould and freeze. Enjoy!
---
Be sure to follow Kepler Academy on Facebook & Instagram for more children's recipes, and tips on building positive relationships with food.