Skip to Content
Santa's Anonymous: Bring a Toy to the Kepler Academy Nearest You | November 12 – December 5, 2020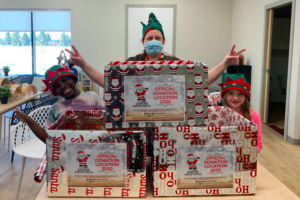 For the 2020 holiday season, Kepler Academy Early Learning & Child Care is coming together in company-wide support of 630 CHED's Santas Anonymous.
Each year, Santas Anonymous is "inspired by a simple wish to see every child receive a new toy at Christmas." With a goal of 20,000 new toys this holiday season, 630 CHED needs all the help they can muster from our wider communities in Edmonton, St. Albert, Sherwood Park and Spruce Grove. Anyone can get involved — from delivering toys to families, donating money, donating a new, unwrapped toy, or volunteering to wrap and deliver gifts to children. It takes over 12,000 volunteer hours to make Santas Anonymous a success.
All of our Academies will be a drop-off location, accepting toy donations from November 12 until December 5, 2020. On December 12 and 13, our team will also participate in delivering toys to families as well.
Drop-off a Toy for Santas Anonymous – Kepler Academy Locations
Please bring a donation of a new, unwrapped toy to one of Kepler Academy's childcare centres listed below. Our team will ensure a healthy and safe drop-off for you, and safe handling of toys before delivery to the Santas Anonymous Warehouse.
Kepler Academy Emerald Hills – Sherwood Park – 170 Ebony Boulevard | Call/Text: 780-983-5736
Kepler Academy Sturgeon – St. Albert – 625 St. Albert Trail (#300) | Call/Text: 780-906-2493
Kepler Academy Westwind – Spruce Grove – 11 Westwind Drive | Call/Text: 780-566-0238
Kepler Academy Cavanagh – South Edmonton – 10906 30 Avenue SW | Call/Text: 780-906-2784
Kepler Academy College Plaza – University of Alberta Area – 8215 112 Street | Call/Text: 587-708-0068
Kepler Academy Sun Life Place – Downtown Edmonton – 10123 99 Street | Call/Text: 780-224-6459
*Please note, our centre at Sun Life Place is accepting monetary donations and will post a paper Santa on our giving tree to recognize contributions. 
Kepler Academy West Block – Glenora Edmonton – 14055 West Block Drive | Call/Text: 780-616-8762
Kepler Academy Westlink – West Edmonton – 16826 107 Avenue | Call/Text: 587-920-9746