Skip to Content
Herc's Nutrition St. Albert: A Family Business Celebrates 1 Year Open – Kepler Family Stars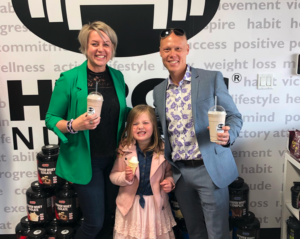 Kepler Academy Sturgeon is new to the St. Albert community and we have wonderful neighbours.
The Neibach Family owns Herc's Nutrition on St. Albert Trail. This popular nutrition and supplement hub is located across the parking lot from our newest childcare centre at the Sturgeon Medical Building. Herc's is a favourite daily stop for our staff and parents — who love to grab one of their delicious on-the-go protein shakes, bars, supplements, sugar-free syrup and pancake mixes.
The Neibachs are one of our founding families, with their daughter Sophia attending our out-of-school program called The Stellar Program.
Sophia's parents told us more about their lives outside of Kepler… 
What does Sophia love to do for a favourite class? 
Sophia is amazing at whatever activity she starts. She loves building with blocks, and has taken an interest in architecture!
This fall, she also started Ballet and Karate in St. Albert, and is working toward her Purple Belt at Desa School of Karate. 
Any activities you most love to do in the fall and winter in St. Albert? 
We love going for walks and playing in the leaves and snow! 
Which family meals you love to eat together? 
Our favourite meal to eat is charcuterie. We each pick a meat and cheese to add to our board.
We go to Mercato Foods to the St. Albert Italian Bakery's Deli, and grab all of our top choices. You can't go wrong!
What is the best place in your city/community to visit? 
Sophia says the best place to hang out is at our store. We agree!
Today, we are celebrating our one year anniversary of opening. We've got a huge announcement — we are giving away an entire years worth of free supplements to one of our customers! ($1200 value) From November 10 to 21, 2020, for every $99 you spend in store, your name is entered to win. Make sure to check out our Facebook and Instagram pages. We are so proud to be part of this community and work hard to connect and give back.
What is the best part about being at Kepler Academy at Sturgeon Medical Centre? 
The people! Sophia loves playing with Miss Sarah and the whole team of Educators — they adore her and love having her in the program. She creates some incredible structures, like her tall igloo with marshmallows and toothpicks.
Thank you so much, Neibach Family!
---
Kepler Academy Families & Friends receive 10% off products at Herc's Nutrition St. Albert. Be sure to say you're from Kepler Academy to take advantage of the discount.