Skip to Content
50 Reasons to Appreciate Your Early Childhood Educator | ECE Day 2021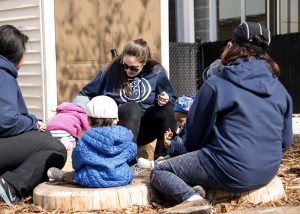 At Kepler Academy, we love to celebrate Early Childhood Educator Appreciation Day every year.
Also known as "ECE Day" in our industry, this day is an important opportunity to recognize the contributions that educators, teachers and caregivers make in the lives of young children and their families on a daily basis.
ECEs are often doing this work in the background, supporting parents who are also in other essential services roles. Each May, on the third Friday, we join with the Association of Early Childhood Educators of Alberta (AECEA) to mark the occasion.
Our communities are stronger because of the crucial work Educators do with children — it impacts our future and directly contributes to the health of our society at large.
Kepler Academy's team has compiled a list of 50 reasons to appreciate Early Childhood Educators. (We're sure there are many more!)
50 Reasons to Appreciate Early Childhood Educators
They…
Greet children, parents and guardians every day.
Always support if your child is crying.
Plan crafts and educational activities.
Learn best practices that are required of Educators.
Serve meals and snacks with patience.
Clean little hands many times per day.
Change shoes, clothes and more, multiple times per day.
Help our children to stay active every single day.
Teach children new skills like tinkering, coding and more.
Learn new skills themselves to pass along the knowledge.
Work as a team with other educators to build a warm, welcoming environment.
Plan activities based on their children's emerging interests.
Support with transitions during the day, from snack to circle time, and back.
Teach our little ones how to say 'please', 'thank you', and 'excuse me.'
Take photos of your children to share with you.
Keep your children safe and happy, especially those with allergies, sensitivities and disabilities.
Make special crafts and mementos for families.
Update parents on how children are doing.
Create new, fun ideas for how to engage kids.
Gently push kids to learn new skills and habits.
Wipe tears if an accident has happened.
Take the time to get down on a child's level and talk to them.
Encourage children to play.
Clean up messes and encourage messy play.
Give patience during difficult, big emotions.
Provide opportunities to build friendships.
Show children how to safely cross the street, take a walk, and go places as a group.
Work on language building skills.
Support with fine and gross motor skills.
Teach children how to accept new people and appreciate differences.
Embrace all children and build a unique relationship with them.
Take care of bumps and bruises that happen during the day.
Support if children are feeling upset and name those feelings.
Allow children to build social and emotional skills.
Love your kids like their own.
Show up, even if they are tired.
Use their skills and abilities to impact children.
Take the time to cut, glue and colour.
Keep a positive outlook even when days are grey.
Remember to see the world from a child's perspective.
Use the best language possible to positively impact children's learning.
Organize field trips and outdoor learning activities on foot.
Have fun along with the children, adjusting their teaching for different ages and stages.
Create displays that document the learning of children in their program.
Take accidents in stride, even in stressful situations.
Help to prepare young children for elementary school and beyond.
Learn to adapt in difficult situations, like COVID-19.
Share what they've learned with their teammates, co-learning together.
Love to learn, grow and build their portfolio of skills.
Show up, every single day.
Comment below why you love and appreciate Early Childhood Educators!