Skip to Content
Introducing Miles — One of Kepler's First Kids | Kepler Family Stars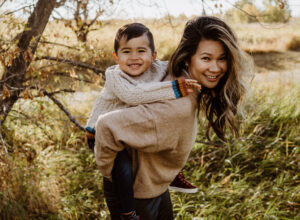 At Kepler Academy, we love celebrating children's milestones!
Pictured above is Miles, one of our Navigators (Preschoolers) who is such a smart, intelligent and social little boy. His mom, Sally, is one of our biggest supporters. Miles has been attending Kepler Academy since he was only a year old. (Photo Credit: Brendan Roy Photography)
In fact, he was one of the first children enrolled at our flagship centre in January 2018. We've been fortunate to watch Miles grow for almost three years now and it's been a joy to support his early learning and development journey. It's why we exist — it's the best kind of reward.
We asked Sally all about her and Miles.
Read along!
Which Kepler location does your child attend? 
We started out at Westlink and transferred to West Block this fall.
We have been with Kepler since Miles was a year old.
What do you do for your work/vacation?
I am a charge nurse at Health Link 811.
I am a huge advocate of health promotion and injury prevention for children!
What does your child love to do for a favorite class?  
Miles loves his swimming class and looking forward to going again when it is safe. He can now float on his back with no assistance for over 10 seconds! Proud mama right here.
Activity you both love to do in the winter and/or during the holidays? 
Miles is a child after my own heart. He loves food and is always wanting to lend a helping hand.
We love making hot chocolate over the stove and curling up to books or doing a puzzle togther.
Favorite books to read before bedtime? 
Llama Llama Red Pajama and The Gruffalo
Family meals you love to eat together? 
We both love all things brunch! Miles can devour 3 slices of French toast and presentation matters too. I can't forget the strawberries or coconut whip cream…haha.
Favorite restaurant in Edmonton?
I love the Gold Digga at OEB Breakfast Co. — so delicious!
Best place in your city/community to visit? 
Park hopping is one of our favorite things to do. Crestwood definitely has the best outdoor parks and 3 of them are all within a 2 km radius. We start at one park, and make our way to all three eventually.
What is the best part about being at Kepler Academy?
I love watching Miles grow into the incredible little boy that he is. I appreciate how his educators understand and keep me in the know when it comes to his overall wellbeing and development at our daily pickup times.
Pre-pandemic, I love that Kepler offered an array of regular activities like yoga, African drumming, and special guests that visits the classrooms (EPL, dental hygienists, and etc).  I also love that Kepler welcomes parent feedback and suggestions.
---
Thank you so much, Sally and Miles!
~ The Kepler Academy Team ~