Skip to Content
Meet the Family Behind Edmonton's Bottega104 | Kepler Family Stars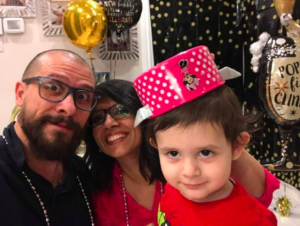 At Kepler, we've got resident experts when it comes to Italian food and culture.
This week, our Kepler Family Stars are the Pinna Family!
We're excited to introduce you to Oliver (Olly), Sladjana and Stefano.
Many of you may know Bottega104, the popular Downtown Edmonton Italian hotspot that is known for it's traditional cuisine. Dad, Stefano, is co-owner and Executive Chef. At Bottega104, Stefano and his team have created some incredible takeout products to make your holidays and New Years Eve extra festive.
You can order their ready-to-go homemade pastas, sauces, pizzas, pantry items, burgers, oven-prepped delicious bakes and of course — their Tiramisu! (Espresso & Cocoa and Gin, Lime & Coconut flavours) 
Online Menu & Ordering: Marketplace by Bottega
Learn more about the Pinna's below…
Which Kepler Academy does your child attend?
We are with Glenora West Block, and this was the best decision we made. Oliver is almost 3 years old and he is curious, a quick learner and very active!
When we realized that he needed more engagement, we had no doubt about starting our adventure with Kepler.
What do Mom, Dad, Parents do for work?
Dad is Co-owner and Executive Chef at Bottega104 and Mom is Operations Leasing Manager with Osgoode Properties.
If you need any recipes or tips in the kitchen, please do not hesitate to ask! You can connect with Stefano on Instagram @stefanoskitchengram or @bottega104!
Mom can rent you an apartment….(still important, right??)
Why did you decide to join Bottega104?
Stefano worked for several Italian restaurants in town and we decided to be part of Bottega's team because they found just a right concept of offering the authentic dining experience that embrace the real Italian lifestyle of fashion, pleasure and passion.
Italian dining culture is famous around the world, but it is much more than checkered tablecloths and wine bottles covered in candle wax. Italians are known to be lively and passionate, so sharing a dinner table with them is quite an experience. They are passionate about life's pleasures, food being chief amongst them, but they are also creatures of tradition and habit.
When it comes to food, they are happiest when things are done right and Bottega just nailed all of it.
What does your child like to do for a favourite activity?
Olly loves painting, playdough and building aeroplanes with blocks!
Which do you love to do together during the holidays?
We love snuggling on the sofa, watching Disney movies, and drinking hot chocolate on cold days or going to visit friends and having dinner/ spending time together.
Tell us which books you read before bedtime!
We love The Big Bad Wolf, the Three Little Pigs and all of the Disney classics.  
Since you're foodies, what meals do you love to eat together?
Breakfasts on Sundays, Olly loves helping dad preparing cappuccino, eggs, and French toasts!
What is your favourite restaurant in Edmonton?
Other than Bottega104, we go often at Mikado in Downtown or Westend.
We love Japanese food!
Best place in your community to visit?
Jubilee Park is very nice for long walks and playground in the summer and making snow angels in winter.
What is the best part about being at Kepler Academy?
We are both very busy and we have no family here that can help us with childcare.
Knowing that Olly is taken care and has nutritional and balanced meals gives us peace of mind to be good at what we do!
He is very active and very hungry when it comes to learning new things. We love Kepler because everyday he comes back home happy singing new songs, knowing new vocabulary, new games, numbers and being very good in social interaction and behaviour with other kids and adults.
All the teachers and Gloria are amazing, but everybody knows that Olly has a soft spot for Sophie.
We wanted the best for Oliver because he deserve it and we found it.
Thank you, Kepler Academy!
---
Our team at Kepler Academy would love to send a special thank you to the Pinna Family and the team at Bottega104 for our fun collaborations. You're one of a kind!