Skip to Content
Duncan & Stella Love Life in Spruce Grove | Kepler Family Stars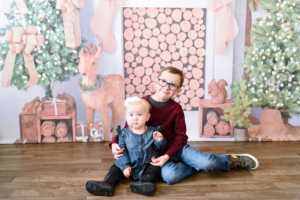 This week, we are very pleased to introduce Ricki, Graham, Duncan and Stella Liptrot!
The Liptrot Family is a huge supporter of Kepler Academy, with Duncan attending our out-of-school care called The Stellar Program, and Stella attending our Explorers program for growing, inquisitive toddlers.
Read more about their family below. (Also, how adorable is their Christmas photo? Credit of Kathleen Lee Photography in Spruce Grove)
Which Kepler location do your children attend?
Kepler Academy Westwind in the beautiful City of Spruce Grove.
What do Mom, Dad, Parents do for work?
Mom is an Account Manager for a local insurance brokerage, and Dad (Graham) is a red seal instrumentation journeyman and electrician.
What does your child love to do for a favorite class?  
Stella loves to colour, and Duncan loves science and likes to play with his friends.
Activity you most love to do in the fall / winter, together?
We have two labradoodles, Millie and Ruby. We take lots of dog walks and enjoy a lot of park time.
Both Stella and Duncan like to go to the pool with their dad. The Tri Leisure Centre in Spruce Grove is one of our favourite family spots!
Favorite books to read before bedtime?
It's Pyjama Time, by Sandra Boynton for Stella. Anything magical for Duncan. He loves the bad guys and stories about dungeons and dragons.
Family meals you love to eat together?
Buttermilk Pancakes on the weekends!
Kepler Academy Tip:
Here's an awesome new children's recipe book, Kids Cooking Ideas, written by The Kids Nutritionist! The book is sold locally and comes with a bonus pancake mix. Co-created by Leah Hackney, local Paediatric Dietician, and Dr. Stephanie Liu, a.k.a Dr. Mom.
Best place in your city/community to visit?
We love the parks in Spruce Grove. Especially Jubilee Park, as we live very close by.
What is the best part about being at Kepler Academy?
The fun and care of all who attend. The supportive environment provided has been a wonderful benefit for our family. Both Stella and Duncan get to have fun and learn new things from friends everyday. Kepler is a strong positive community that we are happy and blessed to be a part of.
---
Thank you so much, Ricki, Graham, Duncan and Stella!
Read more on Kepler Academy's blog.